GET MOVING
RECONNECT TO YOUR SELF AND YOUR SURROUNDINGS
EMPOWER YOURSELF BY INJECTING MORE PLAY INTO YOUR DAILY LIFE
CIMPLAY STORY
CIMPLAY was born out of injury and my passion for movement.
From London's Hip Hop clubs of the 90s to grainy dance throwdowns in Brooklyn to dusty old Latin tracks sampled for their grooves, my influences span decades and cultures. These influences blend with my experiences as a Londoner, dancer, Pilates trainer, movement educator and fitness expert.
After many recurring dance injuries and subsequent operations, I was forced into period of rehabilitation where I took the time to think about all the attributes of Pilates, holistic movement and athletic conditioning, and experiment with how I could combine them into a new style of training, that would be non impacting for the body. As our lives have got busier and busier, we've all fallen into roles we think we should fit into to conform to society. We've forgotten how to express ourselves and release the playfulness within all of us. I coax this out by helping you get in touch with your surroundings and people around you, to look at your surroundings with creativity and inventiveness.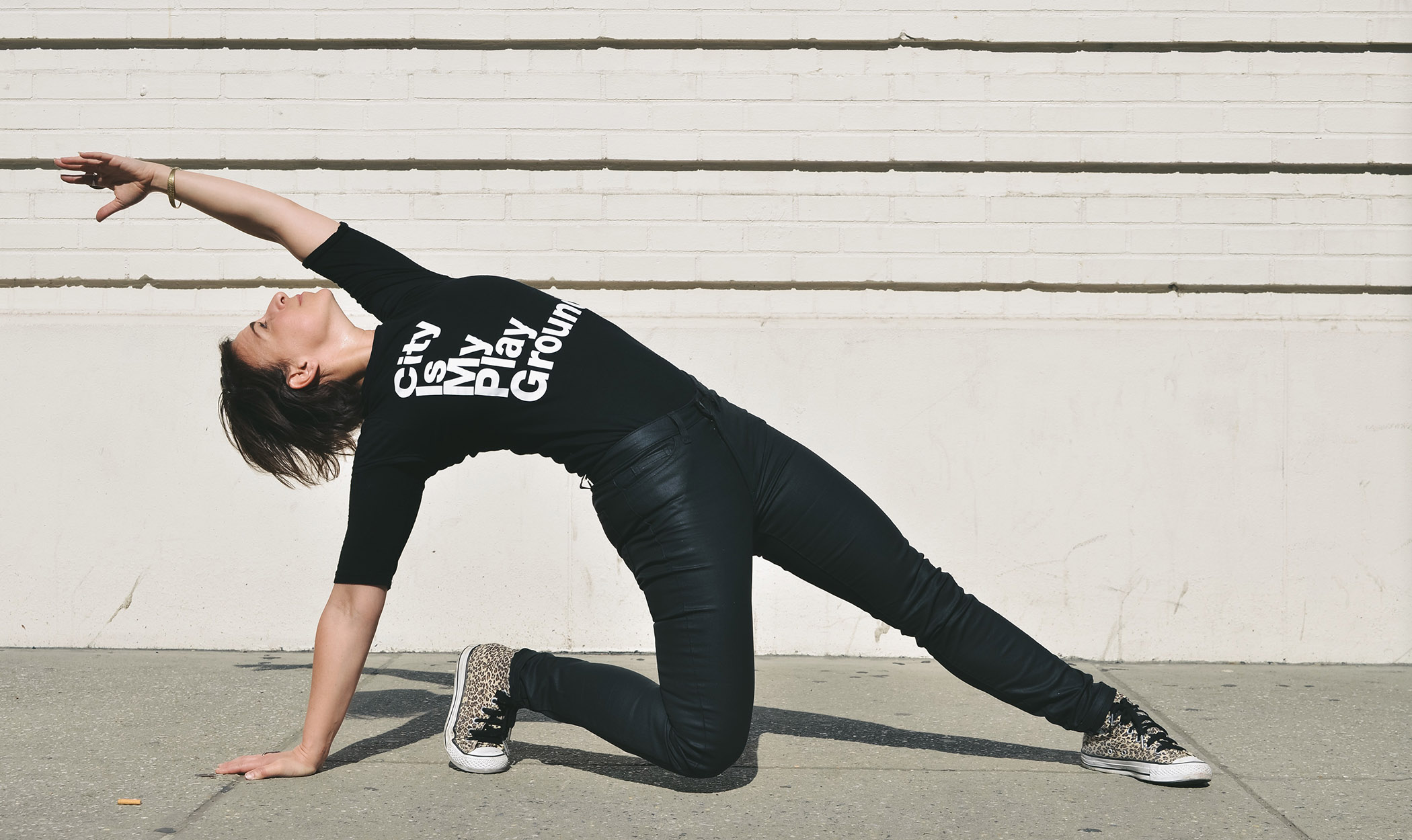 "ITS MINDFUL MOVEMENT MEETS PHYSICAL AND CREATIVE EMPOWERMENT MEETS HAVING FUN!"
OUR METHOD
The CIMPLAY experience is an outdoors movement adventure, releasing the mind, whilst incorporating a sense of forgotten play.
WHAT TO EXPECT FROM A CIMPLAY MOVEMENT WORKSHOP?
Expect a fun fitness adventure which takes place in your city, your surroundings, to look at them in a new light, taking you outside the comfort of the studio letting you rediscover your creativity and sense of play. We explore the central areas of your city in all her glory. We will use the street furniture that we stumble across on our city exploration to stretch, strengthen and create our own form of body art. Contact us HERE to find out more details about how to book your very own City is my Playground experience for your friends or with your colleagues.
BENEFITS OF A CIMPLAY WORKOUT
C-onfidence building

I-nspired connection to self and the city you live in

M-ental resilience improves

P-romotes sense of play and an opportunity to release your inner child

L-evels of stress decreased through the release of feel good endorphines

A-wareness of self and others is strengthened

Y-ou get a chance to be YOU and express YOUR uniqueness

- NICOLA CHER GEISMAR
Founder of City is my Playground